COVID-19 News and Support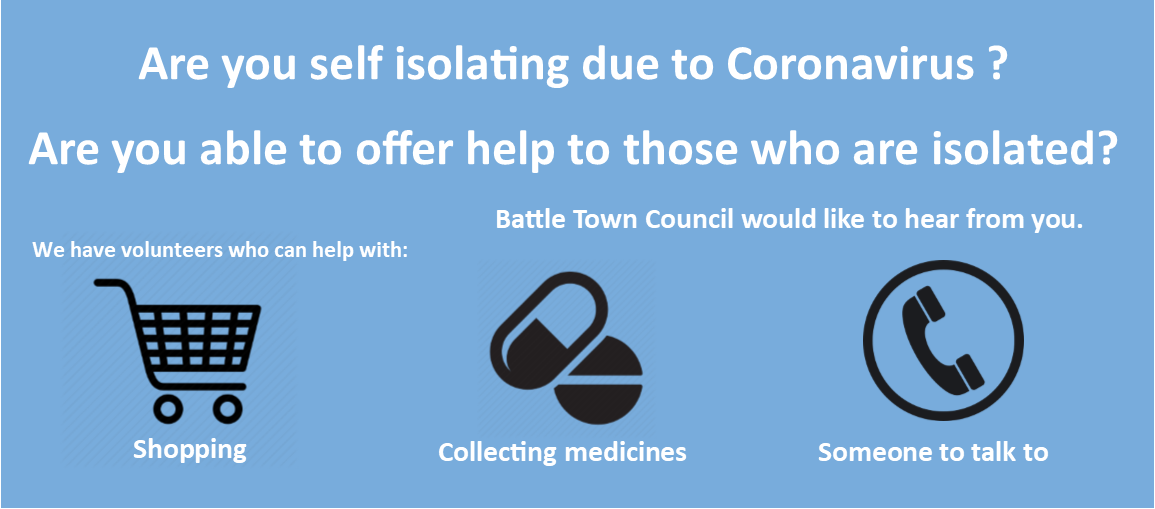 Battle Town Council will be updating this page with upcoming local news and information regarding COVID-19 for residents, businesses and groups. We hope to keep as many people as possible updated on what is happening in the Parish throughout this difficult time, to help keep everyone connected.
If you urgently need help and have no neighbours or relatives you can speak to, and you cannot access any other support services right now, please contact us at Battle Town Council on – 01424 772210 or 07309 732536 (afternoons and weekends).
Additional help and support
Organisation
Contact

Alzheimers Society

Help and support for those who are suffering with Alzheimers throughout the pandemic.

03331503456

Anxiety UK

National charity helping people with anxiety

Anxietyuk.org.uk 03444 775 774

Care for the Carers Support

Supporting carers in East Sussex through these difficult times

https://www.cftc.org.uk/help-and-advice/how-we-can-help/carers-groups/

info@cftc.org.uk 01323 738390

Citizen's Advice

Rother District advice and support

www.citizensadvicerotherdistrict.org.uk or 03444 111 444

Community Hub

Support for vulnerable residents to access basic services.

Cruse Berevement Care

Providing free care and bereavement counselling to people suffering from grief.

Cruse bereavement care 0808 808 1677

Government COVID-19 facebook page

https://www.facebook.com/coronavirus_info/?page_source=bookmark

Macmillan Cancer Support

One of the largest British charities to provide specialist health care, information and financial support to people affected by cancer.

Macmillan.org.uk 0808 808 00 00

NHS Mental Health

Mental health & wellbeing support

OCD - UK

The national OCD charity, run by and for people with lived experience of OCD.

Ocduk.org 03332 127 890

Samaritans

Registered charity aimed at providing emotional support to anyone in emotional distress, struggling to cope, or at risk of suicide.

Samaratins.org 0330 094 5717

Sue Ryder

Palliative neurological and bereavement support charity.

Sue Ryder - https://community.sueryder.org

Vulnerable customers priority utility services register

Vulnerable people can join the Priority Service Register so that in an emergency affecting their service, they can be provided with additional support

https://www.rva.uk.com/information-for-vulnerable-utility-customers-priority-service-registers/

Sussex Mental Health Line

0300 5000 101
News highlights